LEMON CREAM PIE
Lemon lovers will adore this scrumptious pie! With a fabulous, flaky crust that is also low carb and grain free, even if you're not quite into lemon you might just find yourself needing to try a piece!
I'm a lemon lover all the way so I have a few recipes besides this one that might tickle your fancy to make. If you don't want a large pie like this in the house perhaps my Lemon Mug Cake would be best as it's just a single serving. If you're into creamy custards try my Blueberry Lemon Custard Cake made in the Crock Pot, or my newest recipe without the need for a pie crust, Lemon Custard Pie!  I've also got an easy creamy, lemon cheesecake mousse you might love!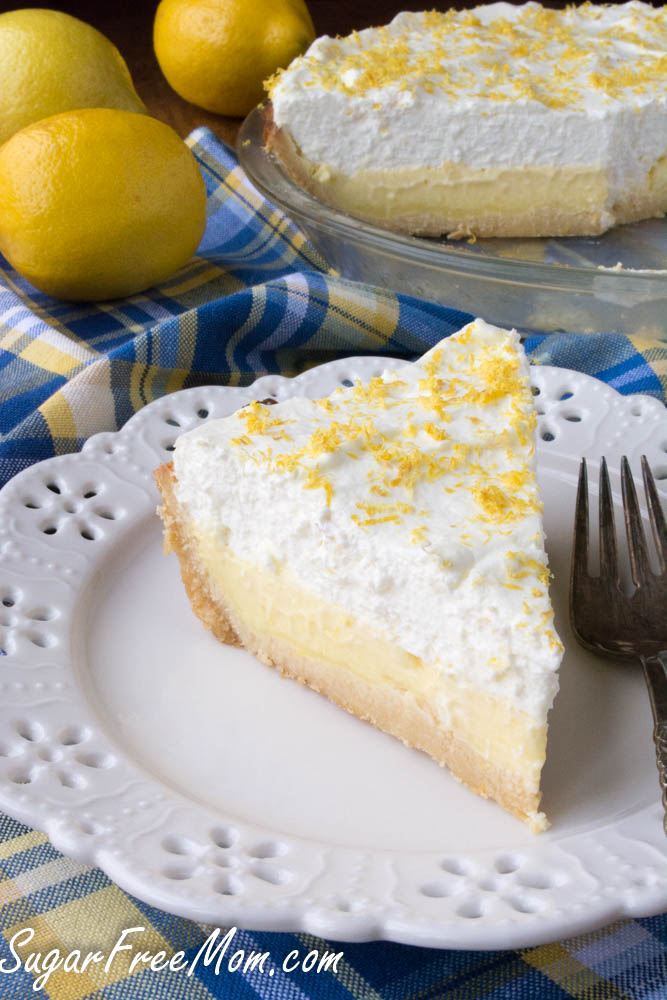 If you've been following my blog for a while now, you know a little about my family. For those who are new around here, these are the facts:
I've been sugar-free for 15 years, gluten free and low carb for the last 6 and keto for the last 3.
Hubby was not sugar-free and low carb and we've been able to let our food differences not hinder our happy marriage of 22 years. In 2018 he finally went keto, hooray!
I grew up in an Italian household where carbs are the main source of a meal.
My dad is from Rome and a very old fashioned Italian who still asks me if I want a sugar filled dessert when I come over or bread. This is been ongoing for the last 12 years. I doubt he will ever stop asking, but he's my dad so I just let it go.
My kids love everything I make, for the most part. They usually aren't AS picky as the husband.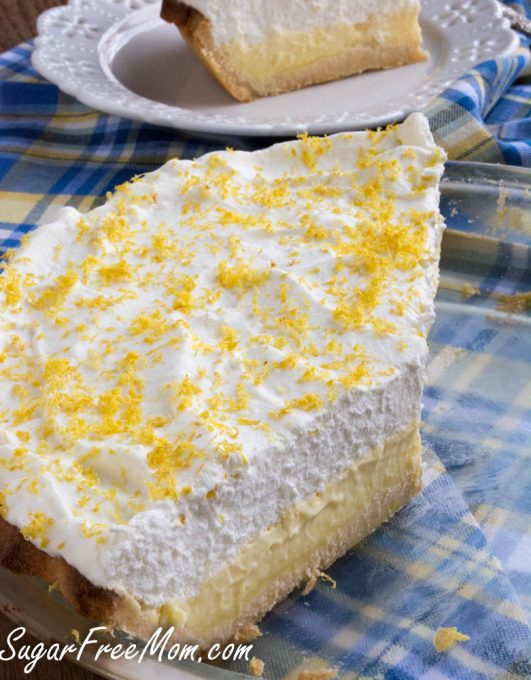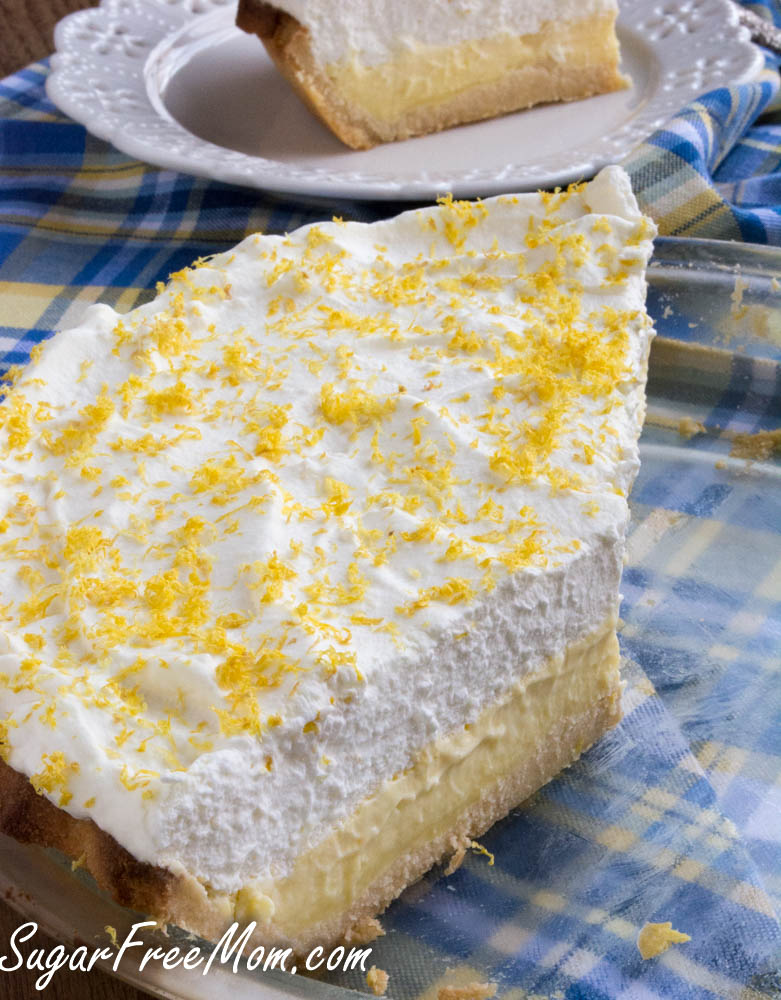 BUT when special occasions arise, like holidays where I am hosting at my house, this is where I get to work on helping my family see that food without gluten and sugar is just as incredible as traditional favorites!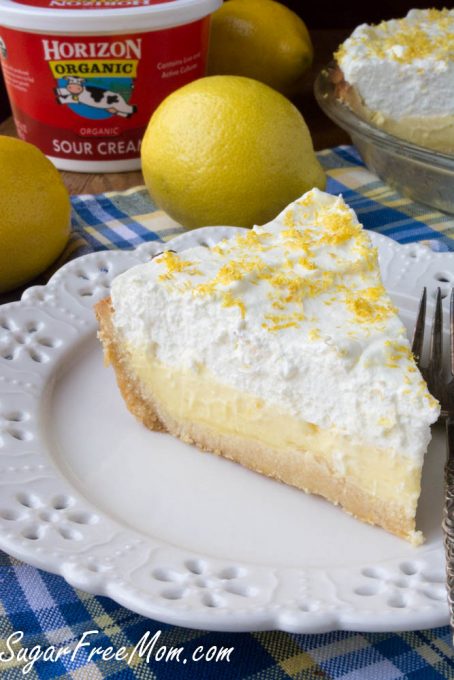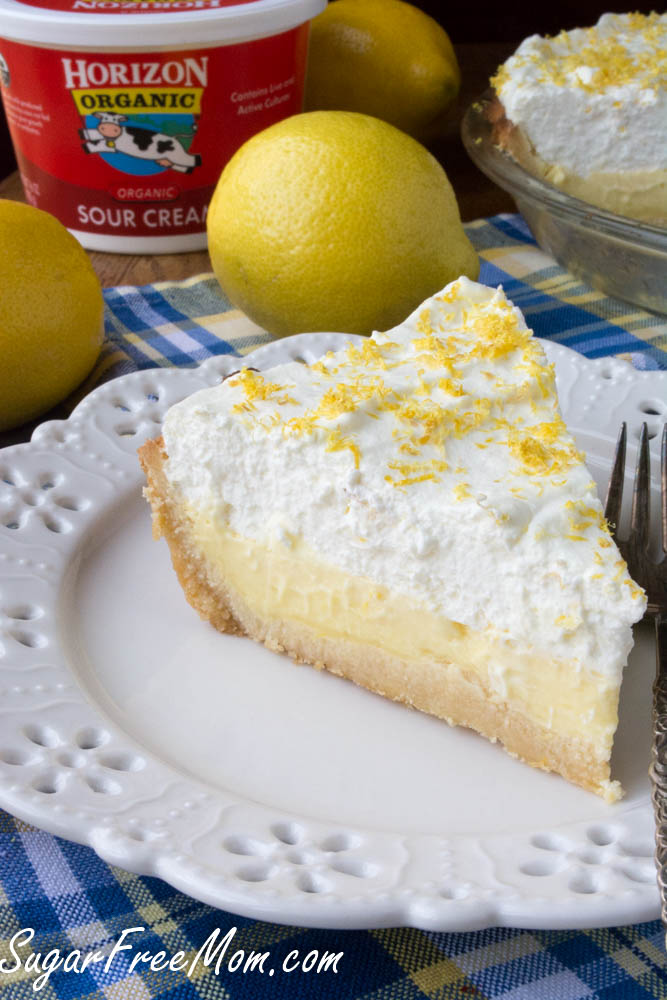 COCONUT FLOUR PIE CRUST
Although my youngest son hates the taste of coconut flour, he can't tell  my keto pie crust has any in it!  The gorgeous pie has been tested and approved by the picky youngest child who hates all things coconut, by the 72 year old Italian father who really loves carbs, by the picky teen who pretty much eats anything and everything these days, by the pickiest critic of all, my hubby and also a few other unsuspecting neighbors who had no idea it was sugar free and low carb! All with rave reviews!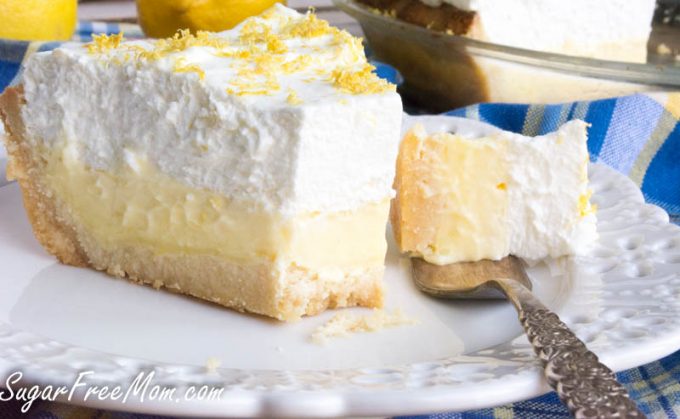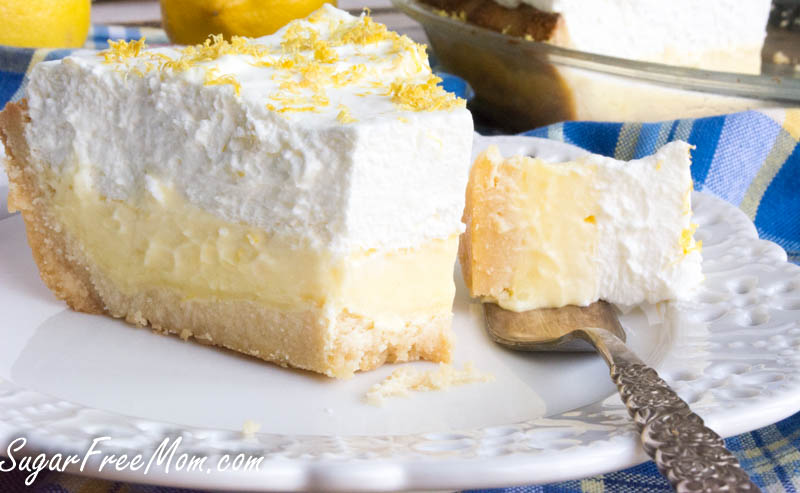 As Easter is soon approaching this will be the star of the day in my kitchen.
Every Easter in fact I have tried a brand new recipe to share with my parents, brother, sister in law and of course my own kiddies and hubby. I think at this point everyone is getting used to my sneaky ways! It's pretty much a tradition now that it's been happening for so long. I think they secretly look forward to it, even if I can't ever get them to convert to a no sugar way of life.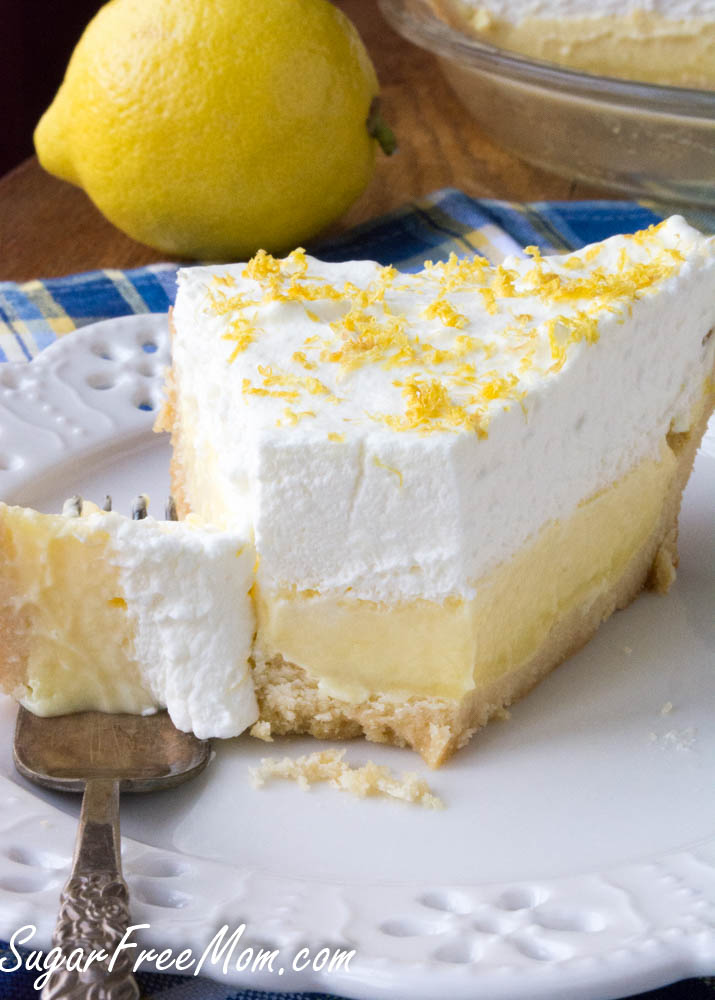 Making traditional recipes that typically contains a ton of sugar and having my sugar-free versions loved by family and friends, well that's just a giant leap in the right direction don't you think?
SUGAR FREE LEMON CREAM PIE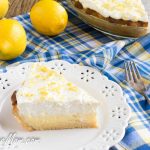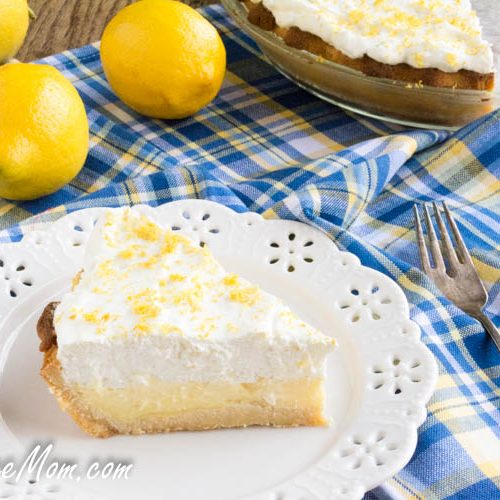 Sugar-Free Lemon Cream Pie
Ingredients
Filling
4

 

eggs

1/2

 

cup

 Swerve sweetener 

or 1 cup sugar substitute

1/2

 

cup

 

sour cream

1/4

 

tsp

 

salt

3/4

 

cup

 

fresh lemon juice

1

 

tsp

 lemon liquid stevia 

eliminate if not using Swerve

Topping

1

 

tsp

 

unflavored gelatin

2

 

tbsp

 

water

1 1/2

 

cups

 

heavy whipping cream

1

 

tsp

 vanilla liquid stevia

Optional: lemon zest over the top
Instructions
Preheat oven to 350 degrees F.
In bowl whisk together eggs, Swerve, sour cream and salt.
Slowly whisk in lemon juice and lemon stevia.
Pour filling into pre-baked pie crust.
Place pie onto a baking sheet and cover around the crust with aluminum foil.
Bake until barely set, about 30-35 minutes. Center of pie will still jiggle slightly.
Cool pie completely before adding topping.
To make topping, place the water into a small saucepan and sprinkle over the gelatin.
Heat on low stirring constantly until gelatin is dissolved. Set aside.
Pour heavy cream into a stand mixer with vanilla stevia.
Whip until peaks form.
Slowly pour in the gelatin mixture.
Spread this over the cooled lemon pie.
Refrigerate 1 hour and up to a day, loosely covered.
Top with lemon zest if desired when serving.
Recipe Notes
Net Carbs: 4.8g
Brenda's Notes:
This recipe was first published in March 2016 and updated with video in March 2019.
Swerve sugar free sweetener is less sweet than most granulated sugar free sweeteners that's why I included lemon stevia as well in the recipes. If you are using something other than Swerve you can remove the lemon stevia.
If you don't have lemon stevia, you can make this with the vanilla stevia or clear stevia in the filling.
The gelatin in the whipped cream topping is needed so the whipped cream will be more stable if you are making this ahead and I wouldn't eliminate it.
I used my coconut flour crust and pre baked it. Then I covered the crust well with aluminum foil before baking the lemon filling in the pie. I have not tried the crust without baking it first.
I used about 6 lemons to get 3/4 cup juice. This is Tart! If you don't like it very tart reduce this amount to 1/2 cup.
Nutrition Facts
Sugar-Free Lemon Cream Pie
Amount Per Serving (1 piece)
Calories 271
Calories from Fat 214
% Daily Value*
Total Fat 23.8g37%
Cholesterol 164mg55%
Sodium 213mg9%
Total Carbohydrates 8.9g3%
Protein 5.4g11%
* Percent Daily Values are based on a